In the the past weeks F has been playing soccer on Monday nights and coincidentally, on the same night they have started showing a cycle of old Dustin Hoffman movies. Last week it was Kramer vs. Kramer, yesterday it was Tootsie's turn.
Considering I hadn't watched either movie in about 30 years, I wasn't surprised I had missed out on a lot of the humor and drama. When I first saw Kramer vs. Kramer I was a child approximately Billy's age with recently divorced parents and I was moving to another continent with my mom. It was all pretty matter-of-factual to me. Now, as the mother of a daughter that age, I watched it with renewed interest and much more involvement than the last time. As for Tootsie, I had natually completely missed out on the sexual subtext, which is surprising considering the whole comedy revolves around it. I also realized with a little gasp that Dustin, Meryl and Jessica were probably all younger than I am today when they starred in those movies. Finally, I smiled when I realized Michael's roommate in Tootsie is Bill Murray, who only became a noteworthy presence in my life after Ghostbusters. Or that Tootise marked Geena Davis' first movie appearance.
Generally speaking I am not usually one to watch old movies, it just isn't my thing. I am not that person with a huge collection of dvds that I see over and over again. But something about these two movies just sucked me in, something more than just purely enjoying good acting by a younger, softer version of the stars they are today. The truth is they bring me back to a different time of my life. A time that I can now see with much more awareness than I did as a kid. They portray the NY of my younger years, a time when I had still lived most of my life in the city instead of Europe. The years of the Russian Tea Room, the Twin Towers and of a seedy but truer version of Times Square.


Source: Wikipedia
I felt a twinge when I saw a NY bus drive by in a scene that was advertising the hit musical Evita. I remember every minute of those summer nights in the early Eighties when I played that record over and over again. I sang of a new Argentina, the chains of the masses untied, and had not a clue what it meant. I sat in a Broadway theater mesmerized while Magaldi admonished Eva of the perils of Buenos Aires. Those tunes were the soundtrack of several years of my early life and every note brings back a memory. My family still roll their eyes at the mere mention of the Argentine rose.
And what about mocassins? Did you have a pair? I had completely forgotten about my white ones until I watched Lange's slow-motion twirl last night.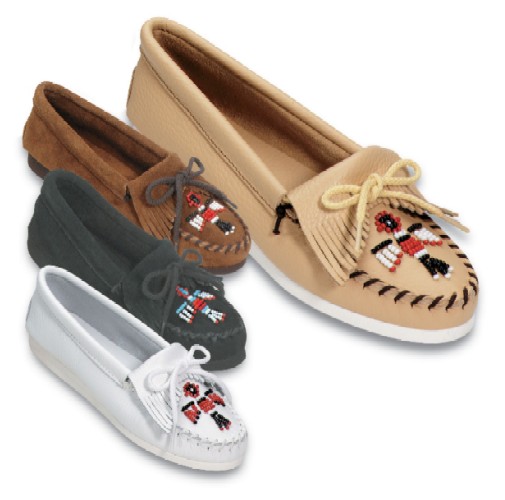 Source: sodahead.com

The early Eighties in NY was also when Italian restaurants started becoming all the rage: the Italian American renditions of spaghetti and meatballs and fettucine Alfredo were being replaced by more authentic Italian recipes and ingredients. Risotto, carpaccio and pesto were all the rage and ingredients like zucchini and arugula became as popular as the escargots and frog legs of the preceding decades. Italian food was no longer synonym of red checkered table cloths and cheap wine, it was becoming the new French and everyone was jumping on board.
This salad is light yet far from boring. The raw zucchini carpaccio (so reminiscent, at least in vocabulary, of those years), slightly toothsome ribbons of pale green, pairs wonderfully with freshness of the mint, the saltiness of feta cheese and the added texture of the toasted pinoli nuts. If you prefer them cooked, for a bolder taste, you can slice the zucchini a little thicker and grill them briefly before serving.
I was sure I had pinned this recipe but cannot seem to find it. I have no recollection where I found it as I made it over a week ago, so please let me know if you inspired me, I will be sure to credit you!
Ingredients (6-8 servings)
4-5 zucchini, peeled and sliced
100gr feta cheese, crumbled
fresh mint, chopped
handful pinoli nuts, toasted
extra virgin olive oil
balsamic vinegar
salt
pepper
Using a mandoline or a carrot peeler, peel and then slice your zucchini into ribbons, discarding the seeds. If you are using a knife, slice as thinly as possible.
Heat a small pan over a medium flame and toast your pinoli until they turn a warm, golden brown.
In the meantime chop a little bunch of fresh mint. Then dress the zucchini with olive oil, a drop of good quality balsamic vinegar, the mint and a little salt and mix. Keep in mind that you will be adding feta cheese, so do not oversalt.
Crumble over the feta, garnish with pinoli and a good dusting of freshly ground pepper and serve. This salad is best when eaten immediately, while the zucchini are still slightly crisp and the pinoli still add some nice crunch.